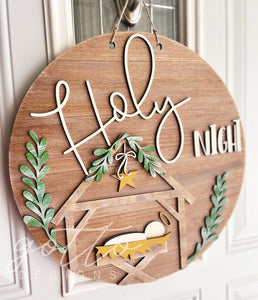 Join me, November 28th @7pm on my Facebook page: Gotto Designs to paint this gorgeous tier with me!
 If you purchase the unfinished doorhanger without kit you will ONLY BE GETTING THE 14inch doorhanger without any supplies to complete it. Meaning you supply your own paint, glue, brushes, stain, etc.
If you purchase the complete kit you will get your doorhanger and pieces PRE STAINED BECAUSE I CAN NOT SHIP STAIN. I will include everything else you need to get the featured look. You will also get instructions live on Facebook in my page on November 28th @ 7pm. If you can't watch it then you can always watch it on your own time during the replay.
Some of the pieces are fragile, so please be careful while handling at the event and at home.
Pieces are made of 1/8" or 1/4" plywood (shown).  It is for INDOOR use only. These are laser cut items. You can expect some dark edges or char marks. Since they are laser cut there will be a burnt wood smell. The burnt smell goes away with time.
 
RETURNS, REFUNDS and EXCHANGES:
All Sales Are Final! No refunds, returns or exchanges.
By purchasing this item, you are agreeing to our policies.